Our Products and Services
Twinfile® rotary cabinets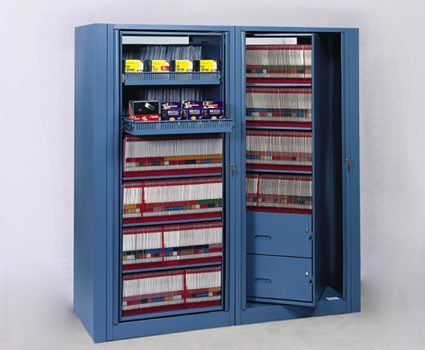 Our Products and Services
Twinfile® rotary cabinets
Twinfile cabinets feature rotating shelves that allow you to store more media in a limited space. Rotating file cabinets can store 40% more media in the same footprint as traditional roll-out drawer filing cabinets. The rotating shelves provide instant access to your media from both sides of the unit. The cabinets can also be closed for added security and a clean look for commercial office storage.
Twinfile is the ideal file cabinet when you need more storage capacity in a limited space. Twinfile also works great as a workspace partition that doubles as storage space.
Twinfile cabinets are suitable for a wide range of media storage needs, including standard color-coded file folders, secure records storage in locking drawers, small media filing in three-inch drawers, filing in full-shelf rollouts, unit boxes and even wardrobe storage.
Features
rotating inner unit allows access to all cabinet contents from both sides.
available in six heights and multiple interior configurations to meet your particular filing needs
flexible configuration to accommodate standard color-coded filing, secure lockable storage, and small media formats