Our Products and Services
File conversions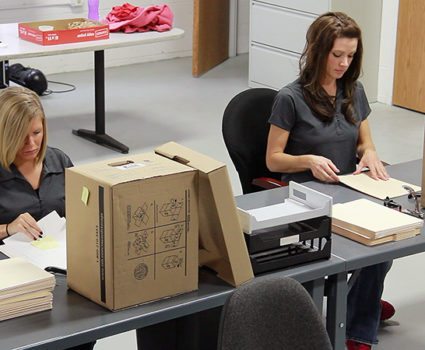 Our Products and Services
File conversions
A file conversion can involve switching to a new file numbering system, or the conversion of documents from paper to electronic form. TAB's file conversion services ensure a successful outcome and reduce risk during the conversion process.
TAB is your experienced file conversion partner
TAB has managed and executed thousands of file conversion projects. Our expert team ensures that your conversion is conducted securely, with the highest accuracy and with minimal disruption to your existing operations.
TAB's experience covers a wide range of file conversion scenarios:
file renumbering
conversion to space-efficient folder formats and shelving styles
conversion to color-coded labels for faster file retrieval
file audits, reorganization and reassembly
merging of two or more filing systems
digitizing existing paper collections and day-forward documents
TAB's file conversion services include:
consulting services to plan the conversions
audits and assessments of your existing file collections
file preparation
file conversion
document scanning
file renumbering and relabeling
quality assurance on converted files and electronic images
upload of images to the electronic repository
file re-assembly and re-filing
staff training to transition to the new system