Our Products and Services
File folder accessories
Our Products and Services
File folder accessories
TAB provides an extensive line of accessories to help you tailor your filing system to your exact needs.
Vinyl pockets
Durable self-adhesive pockets help organize media inside folders. Available in credit card, microfiche and loose-leaf sizes.
Storage boxes
TAB's unique design allows you to store side-tab folders in legal or letter sizes.
One-piece manila pockets
These one-piece pockets are closed on two edges and have a reinforced side tab and an angled front.
Mylar protection strips
These clear, pressure-sensitive strips reinforce your folder, while preventing smudging of typed labels.
Foam clips and fasteners
Organize two-hole punched paper in your folder. Available as self-adhesive or factory installed.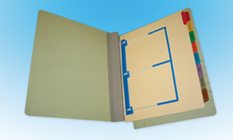 Docuclip fasteners
Docuclip is a unique self-adhesive fastener that can easily and effectively turn any folder into a two-inch capacity binder. Plastic legs permit pages to be inserted or removed without disturbing preceding pages.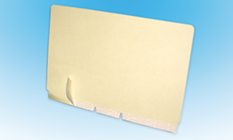 Dividers
Easily separate and classify contents within your folders.
Charge-out slips
Track the name of the borrower and when the file was used.
Vinyl charge-out guide
Mark the spot where a file needs to be returned and hold incoming material while the folder is out.
Shop now: